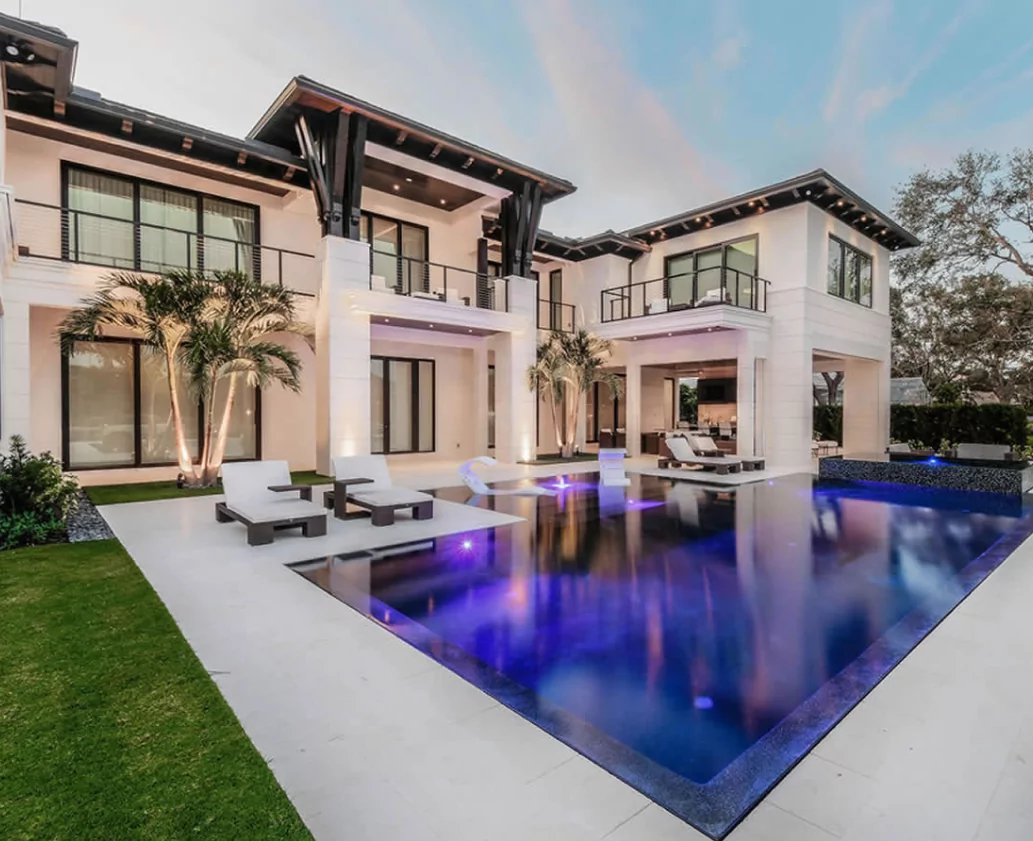 POOL FEATURES & ACCESSORIES
Whether your building a new pool, or resurfacing and renovating an existing pool...
We offer you various styles and features to enhance the beauty and quality of your backyard oasis. We can also simplify the operation of features and pool care with remote controls, cleaners, and a salt system.
POOL INTERIORS
Today's pool interior finishes offer a wide range of color options. Blue water is the most commonly the key objective in selecting the pool finish. This can be obtained by selecting any white based aggregate finish. You can select a finish with colored aggregate particles that best matches your tile and coping. Many pool environments are created to blend in with nature, while others require a bolder more contemporary or modern feel.
STAMPED CONCRETE PATIOS & POOL DECKS
Stamped Concrete
If pool pea gravel, spray deck or cool deck isn't your thing, don't worry there are other options. You can consider Stamped Concrete Overlay applications that can simulate Cobble Stone, Slate, even Cut Coral. The application is typically 1/2" thick applied over new or existing concrete.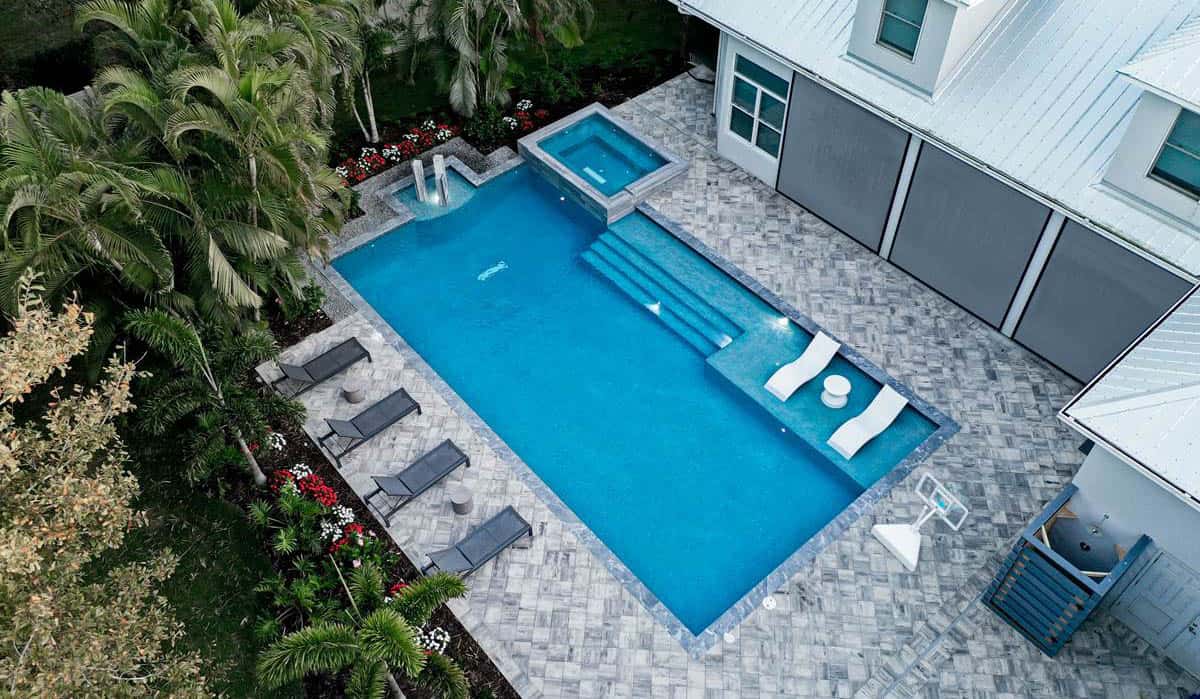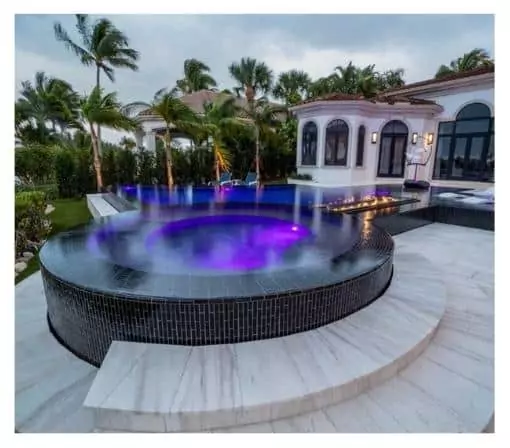 Translucent Concrete Stains
Also, now gaining in popularity are applications of translucent concrete stains. They achieve mottled looks that contain lots of contrast and depth. This is an inexpensive application that is ideal for hiding dirt from foot traffic and even celebrates cracks that give the patio more character.
POOL EDGE ALTERNATIVES
Most commonly incorporated in today's new pools and renovations is some form of "Coping Edge". Coping is available in many materials; essentially its purpose is giving the pool's top edge a rounded material that will interface the patio material and the pools waterline tile.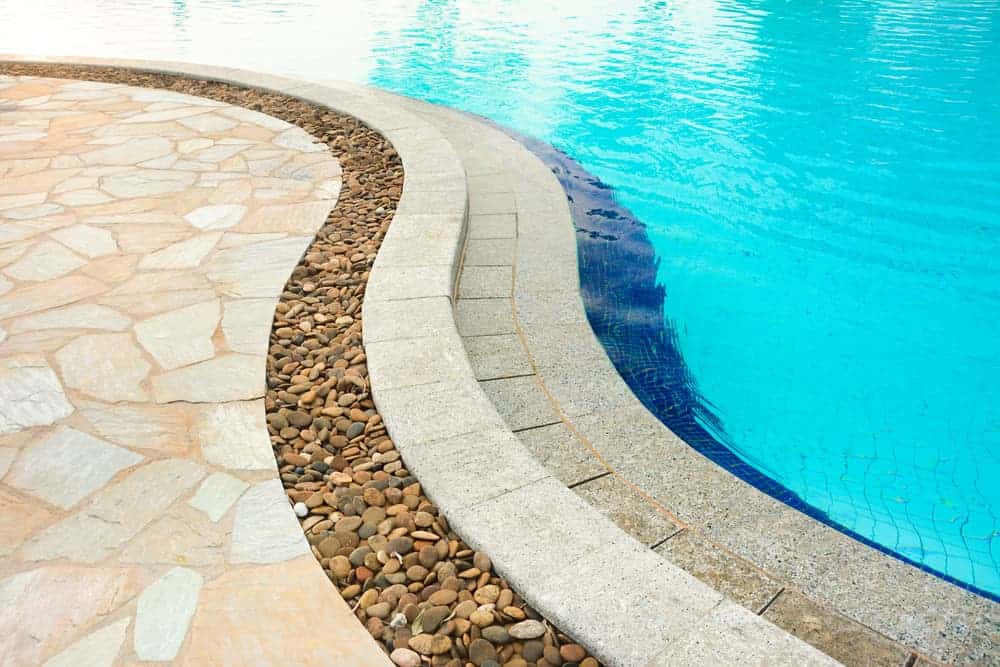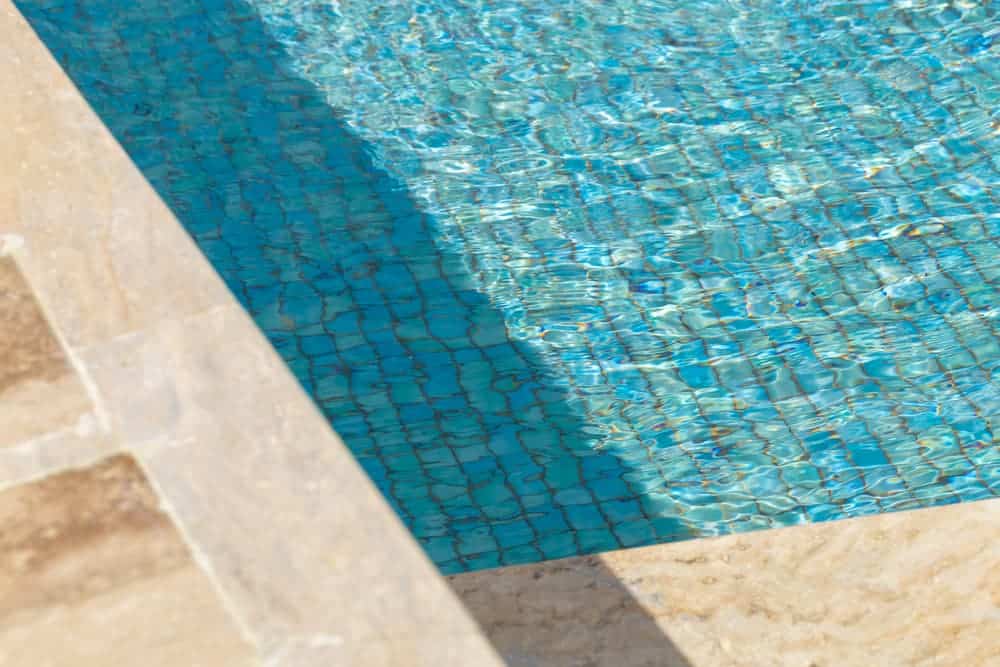 POOL WATERLINE TILES
Don't be overwhelmed by the choices available to you. First, do you like smooth or rough stone type textures? Second, what basic color do you like?  From there, decide if you want a pattern or just a simple square shape with minimum grout. Most people select a tile that will contrast with the water.
POOL SUNSHELVES, BENCHES AND BEACH AREAS
Now that we've covered the surfaces involved with your pool, let's think about how your pool will be used. One of the most popular places the people congregate in and around a pool is at the pool steps. They offer multiple levels to sit and enjoy the cool water. Therefore it makes sense to consider expanding those areas.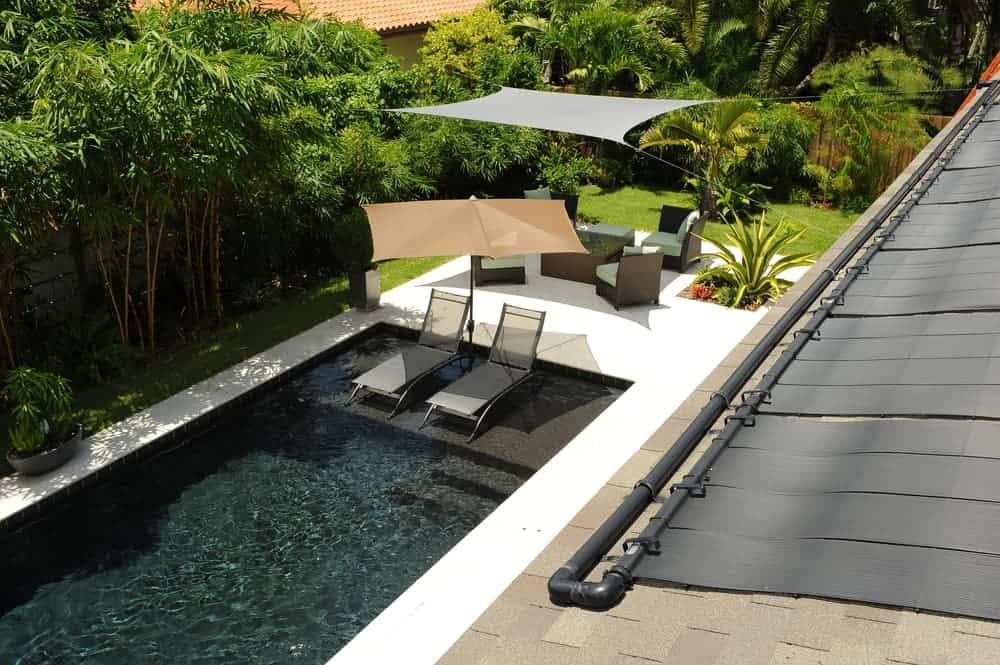 We can add a "sunshelf", which is a generally a six foot wide step or ledge at any desired water depth that will offer you an area to lounge within the water, with bubblers and/or lights, or even just above in your lounge chair.
A "beach area" specifically refers to the same sort of feature that slopes in from the deck giving a beach effect topped with flagstone, travertine, or pool finish.
We can incorporate one of these features in your new pool or recreate any existing pool to have a sunshelf or beach area.  It's not as expensive as you may think and adds more fun, enjoyment and even equity value to your old pool! range of color options. Blue water is the most commonly the key objective in selecting the pool finish. This can be obtained by selecting any white based aggregate finish. You can select a finish with colored aggregate particles that best matches your tile and coping. Many pool environments are created to blend in with nature, while others require a bolder more contemporary or modern feel.
POOL ACCESSIBILITY
We have found that many clients request addition of hand rails with renovation projects. The pool may have initially been installed with kids in mind, and be a little challenging for many adults. We can install handrails and even add additional pool stairs in any pool, to make getting in and out much easier. You can select a standard handrail, or we can easily have a custom rail fabricated to suit your needs and taste. Many finishes and colors are available.
We can add a new rail to any existing pool.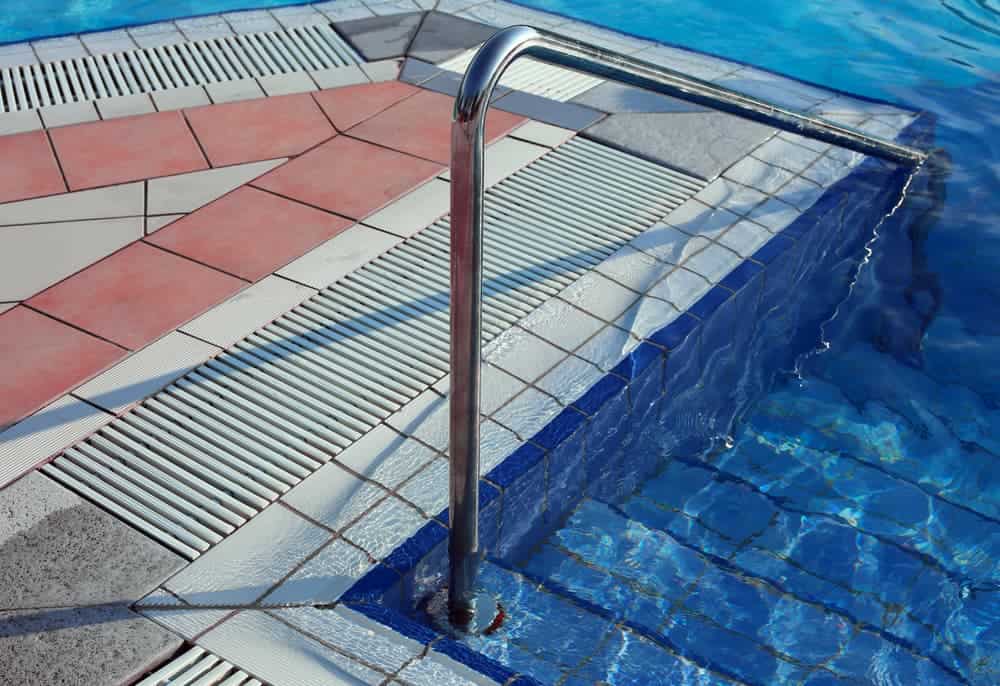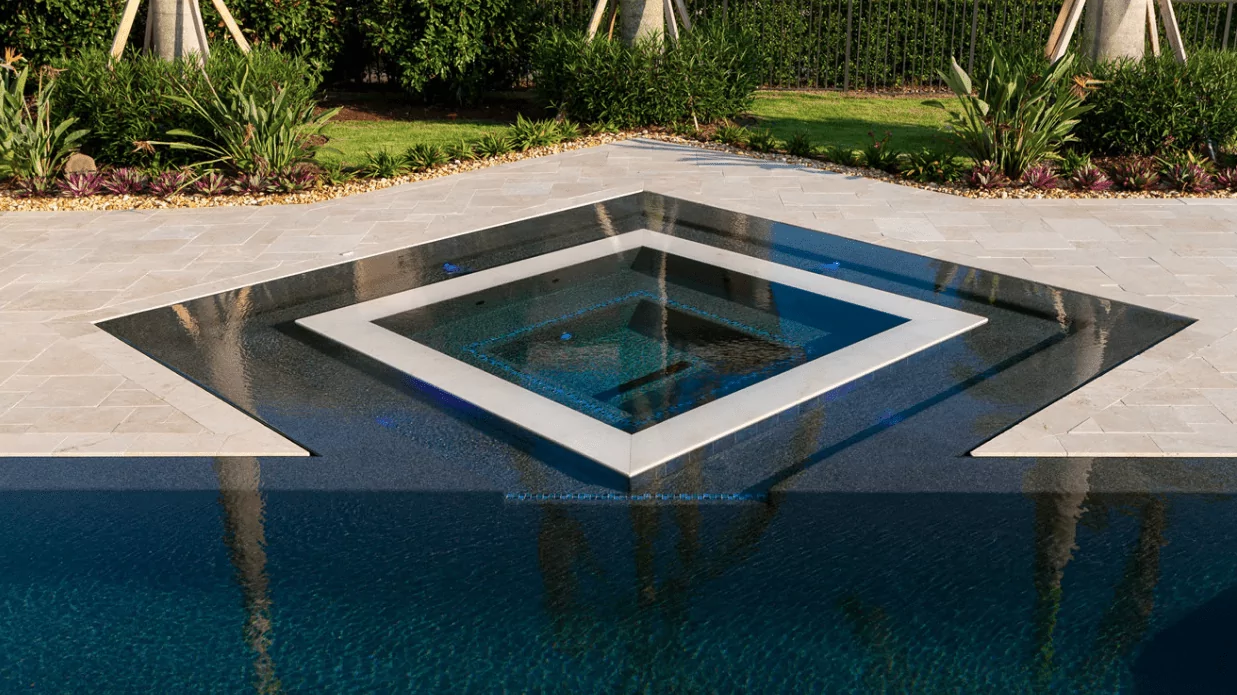 SPA ADDITIONS
There's a good rea­son many peo­ple include a spa when they build a new pool. In addi­tion to the calm­ing atmos­phere of the spa spilling into the pool, there's lit­tle extra main­te­nance and it's always there when you're ready to heat it up and get in for a soak.  There are a vari­ety of options for water­fall effects that can be cre­ated so your spa can cas­cade into the pool cre­at­ing an "active" pool environment.
A new spa can be added to an existing pool so it will look like it was built right in. It is a sig­nif­i­cant expense, however it is an amenity that will add value to your home and many evenings of enjoyment.
WATER FEATURES
Pool environments need action, and what's better than splashing water? You can create a water feature that fits your taste. It could be the jungle themed rock waterfall, an ancient spilling bowl from Egypt, or shooting columns of water in Las Vegas fashion. The possibilities are endless.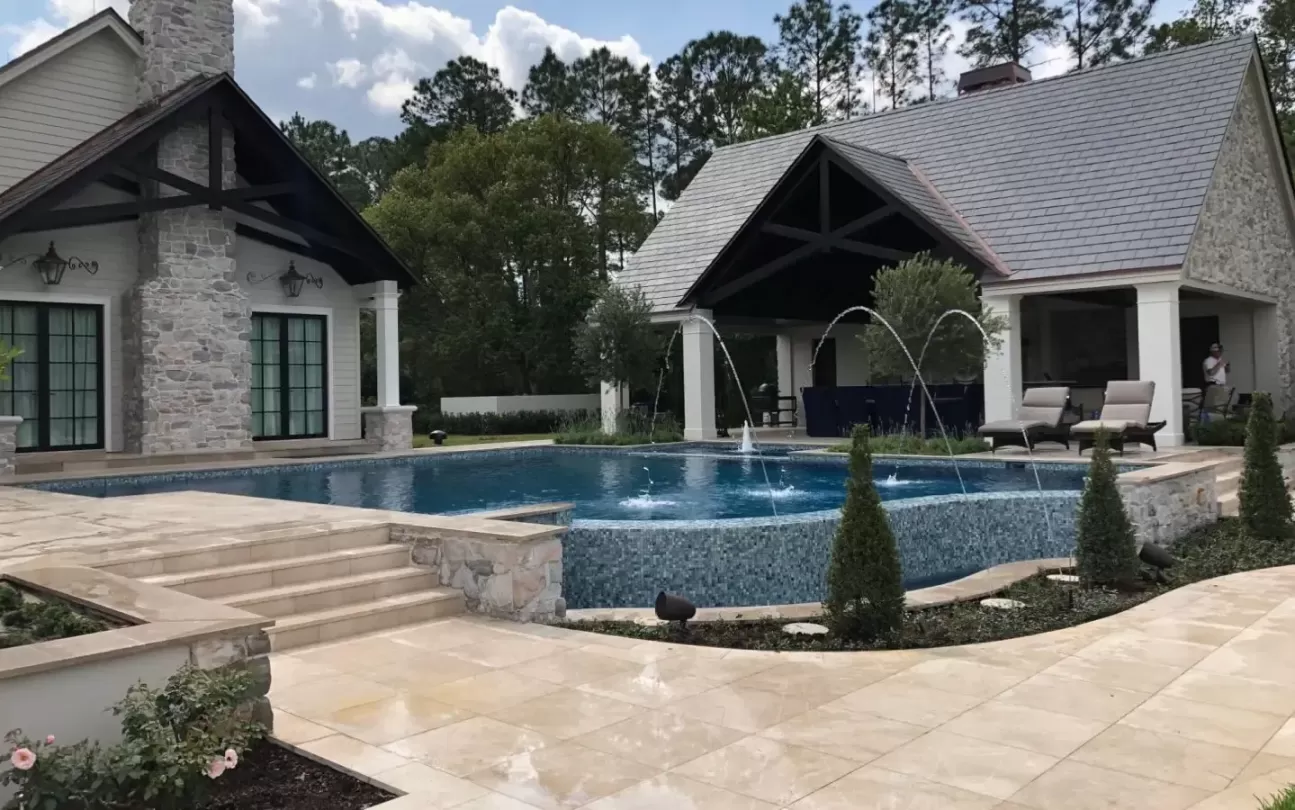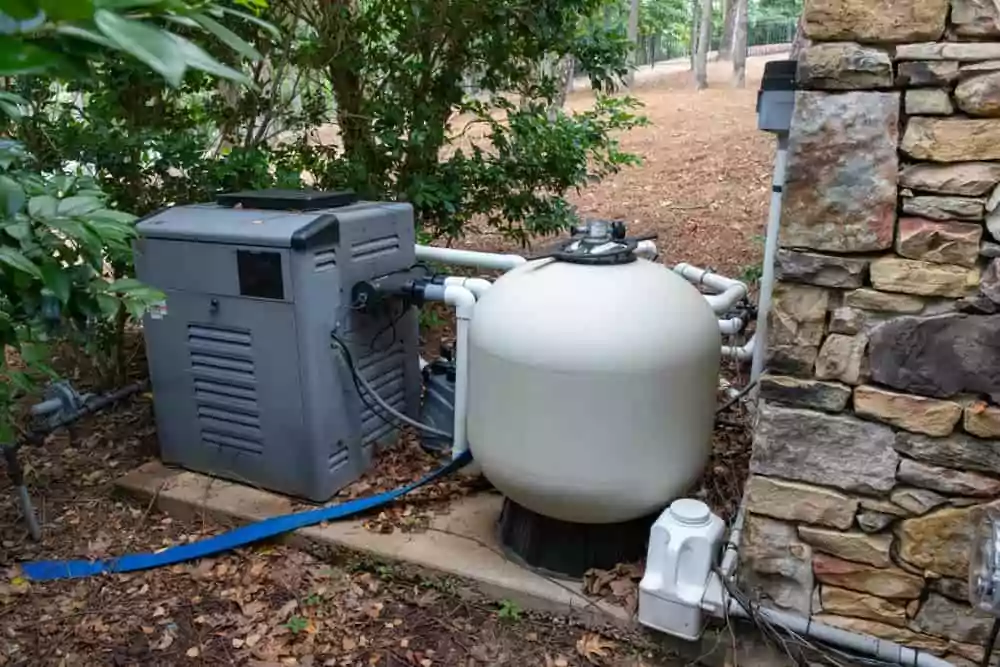 SALT SYSTEMS
Convert your pool to a refreshing salt water pool. Essentially they make chlorine from salt that is added to the pool water. We can simplify your pools chemical care with the addition of a quality salt system.
LIGHTING
Lighting is one of the most dramatic options for your pool environment. The pool area is often enjoyed in the evening — SO LIGHT IT UP! We can help with LED lights to illuminate your pool, spa, and water features. LED lights are not just "white light", they create changing colored light shows. You can also stop them on any one color. Just wait until next Valentines or St. Patrick's Day.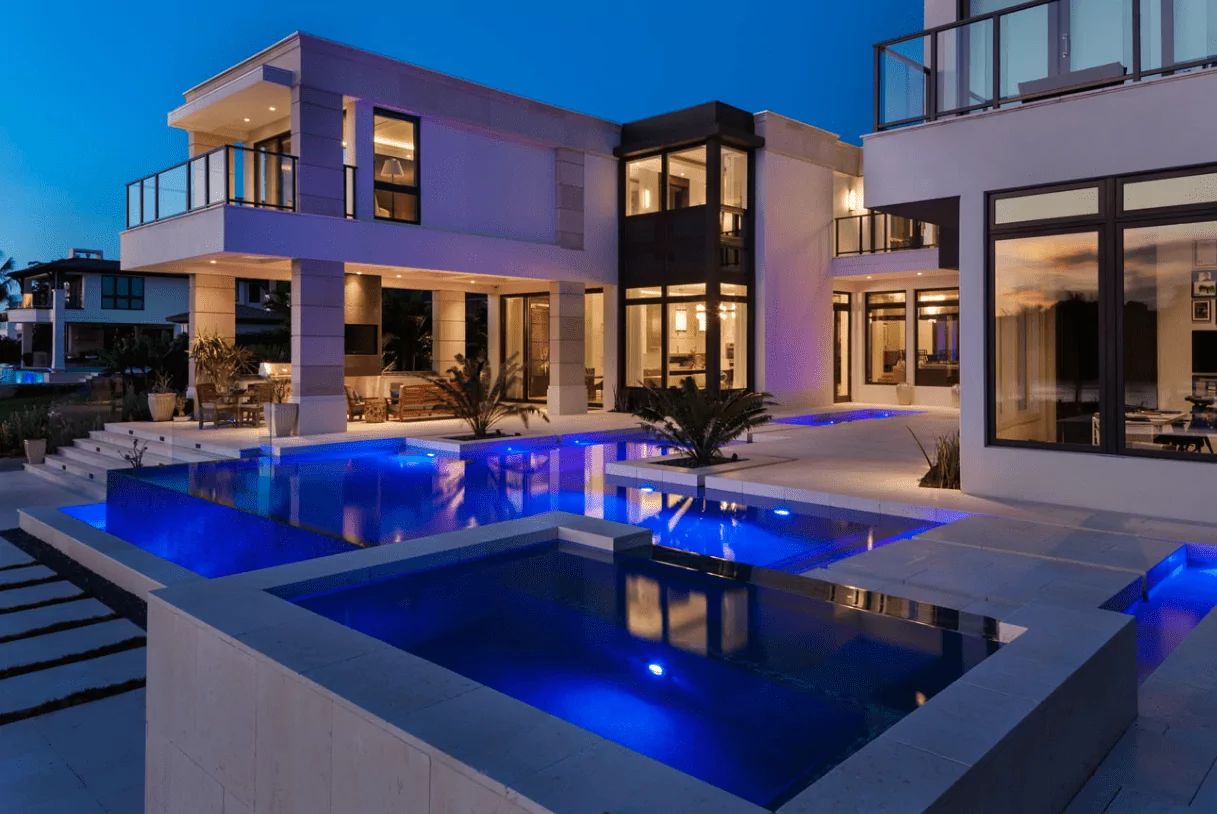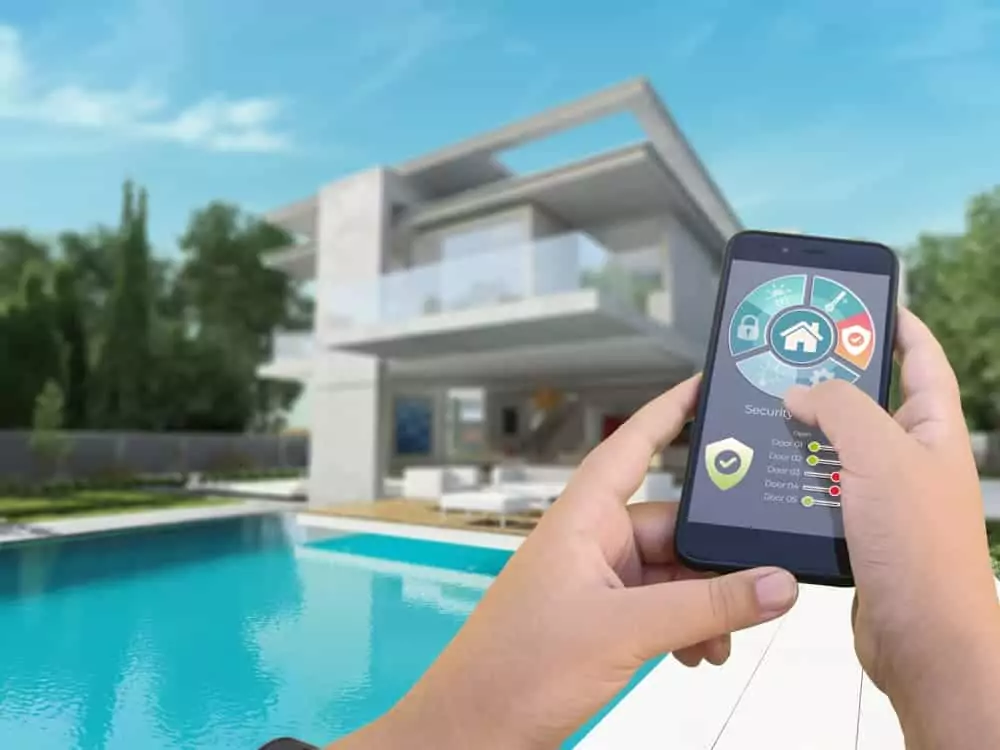 POOL AUTOMATION
Use an Automation Control System to control your lights or any type of feature. You can program the on/off times, or turn them on and off instantly. You can select from a wall mounted console, a handheld remote, or both, iPhone or iPad.
Automation's primary function was initially designed to simplify the spas use, and control the temperature of the heater's thermostat. Now that the convenience has increased the popularity, many people get an automation system in order to control all their pools functions.
Heating your spa?
Gas heaters work the best both LP and natural gas.
Heat pumps work well, too. They just raise the water temperature more slowly.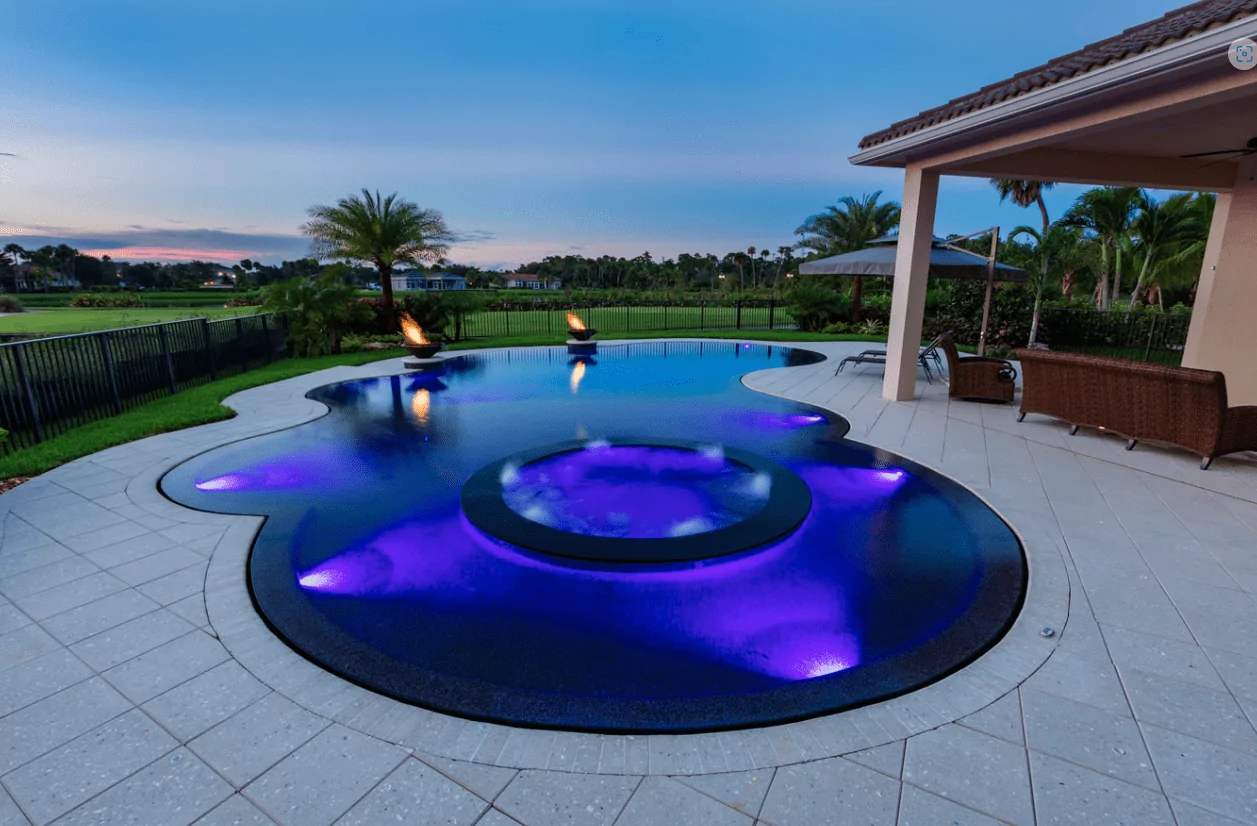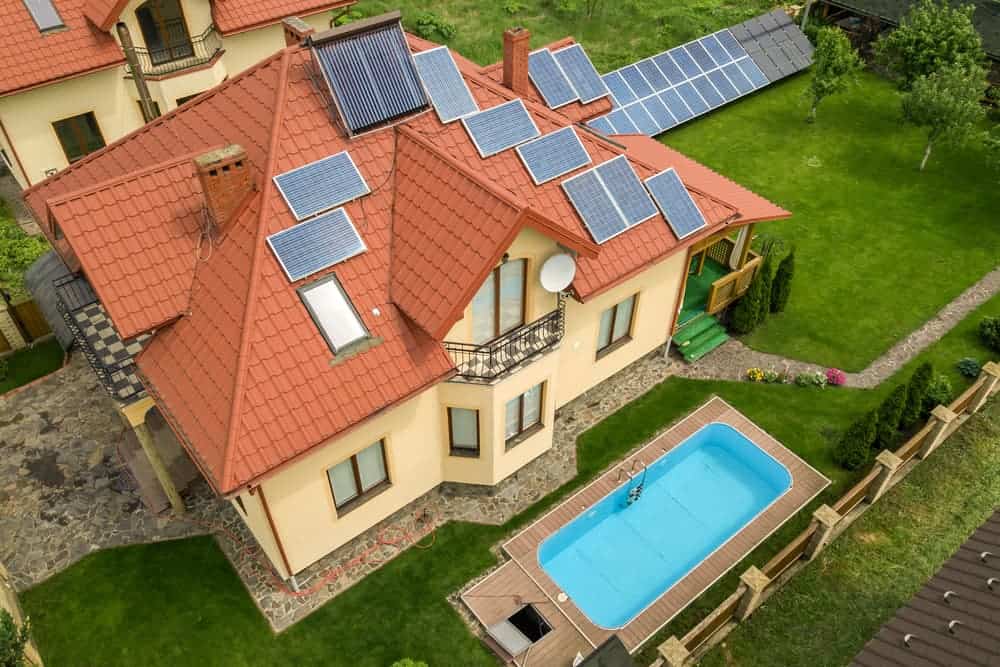 Heating your pool?
LP gas is not an option (the gas is too expensive). Natural gas works well. Heat pumps are more efficient than gas heaters. The initial cost is about $1000 more than a gas heater. Heat pumps don't work well when the air temperature falls below 50 degrees. Solar cost about the same as a heat pump, yet the heat is free thereafter. For solar you need roughly about the same square foot area of the pool, available on the roof for the panels. The area needs to be on SW, S, or SE exposure side of your roof.
We can help you determine which heater is best for your application!
POOL PUMPS & POOL FILTERS
Magnolia Custom Pools is a proud dealer of Pentair and Jandy products. We have a long history installing Pentair and Jandy pool pumps and filters. All of their products have proven to be extremely durable and reliable. Pentair and Jandy pool pumps and filters are so reliable we are able to offer you a 3 year warranty on parts AND labor.
Pentair and Jandy pool pumps and pool filters are not only reliable, they are whisper quiet and energy efficient.
We highly recommend Pentair and Jandy pool pumps and filters.
VARIABLE SPEED POOL PUMPS
We are also getting asked more these days for variable speed pool pumps as they becoming mandatory for pumps larger than 1 Hp.
If you are looking for a variable speed pool pump, give is a call to discuss what pool pump is the right match for your pool: (346) 550-4642
Pool safety is everyone's con­cern. Every swim­ming pool requires a bar­rier around it in order to keep neigh­bors safe. The bar­rier can con­sist of a roll away type pool fence, or a spe­cific type of alarm on every door and win­dow which has access the swim­ming pool area.
While the event is uncom­mon, a sec­ond safety con­cern for pools is "entrap­ment". This is an event when some­one could become trapped under­wa­ter by the power of the suc­tion cre­ated by the pool pump. Today's pools are constructed using several NEW methods that prevent such a possibility of an occurrence.
In existing pools, pre­cau­tions must be taken to pre­vent it. This means if you have an existing pool with a miss­ing, loose or bro­ken drain or suc­tion cover in your pool you should turn off the pumps breaker imme­di­ately and have it repaired. We can also install addi­tional mod­i­fi­ca­tions and equip­ment that are designed to make your pool safer.
You are not cur­rently required to make mod­i­fi­ca­tions on exist­ing res­i­den­tial pools to meet the lat­est cur­rent codes. How­ever, we want to help make your pool safe as possible.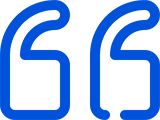 First let me say how much we have enjoyed our great pool from Magnolia Custom Pools. Lots of compliments from neighbors and friends. Recently we have been living in the hot tub and enjoying the fire pit. Thanks again for the great job.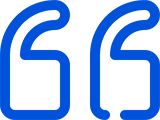 I had a great experience with Magnolia Custom Pools, they were professional & did a great job! My family members and friends absolutely love the pool. I would definitely recommend them for any pool projects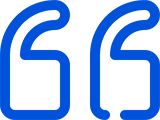 Had my pool installed by Magnolia Custom Pools after I received three quotes. They were not the lowest bid, but by far the most informative and most knowledgeable. I purchased the pool based on the salesman alone, and am happy with my decision. The pool is beautiful, and is beyond my expectations.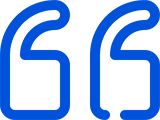 The thing that Magnolia Custom Pools did, certainly beyond the norm, was to stay in touch with me and communicate with me as the pool was under construction. That kept the process moving along fairly quickly. The communication was the best I've had. I'm the one that probably appreciates the quality more because I see it day in and day out. When we have friends over they really comment on the beauty of it. I basically sketched out the design for the team and they gave me some very good pointers as to how to slightly alter the design so it worked better, but they were also very amenable to the ideas that I had. Of course I would recommend Magnolia Custom Pools if I'm asked.